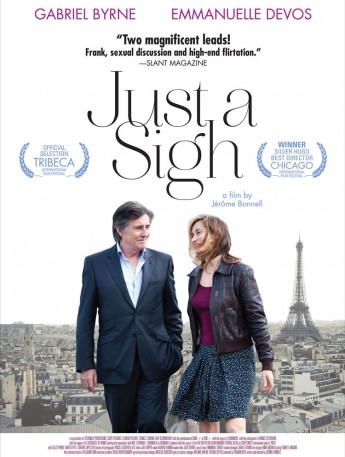 Theaters
MAR 21, 2014
In the short break between performances in Calais, stage actress Alix, played by the stunning Emmanuelle Devos (Desplechin's Christmas Tale), makes a quick escape to Paris. On the train, she meets a mysterious English stranger. Drawn toward him, she follows him, loves him, for a few hours, before facing what could be a new life. With masterful performances by Devos and her acclaimed co-star Gabriel Byrne, Just a Sigh is an imaginative and lushly filmed Parisian romance. Young and versatile director Jérôme Bonnell (Le Chignon d'Olga) tells a real-time story with a particular sense for detail. Reminiscent of François Truffaut's The Woman Next Door, the film captures vivid insights of a burning love evolving between two characters, wonderfully brought together by Bonnell's down-to-earth approach. Just a Sigh captures an irrational, sentimental encounter balanced between the extremes of elopement and routine, with breathtaking psychological intrigue. Frederic Boyer - Tribeca Film Festival
A film by Jerome Bonnell
Starring Emmanuelle Devos, Gabriel Byrne
" A contemporary Gallic "Brief Encounter." Beautifully acted! Intimate and persuasive!" (...) " The chemistry between Ms. Devos and Mr. Byrne is heated in a sadder-but-wiser, grown-up way."
"Psychologically stimulating, and unequivocally artistic! (..) If you're looking for a change from your everyday film choices, then this film is wonderful."
-HOOTMAG.ORG
"Admirably written, delicately directed, this "Boy meets girl" also adds a realistic portrait of a woman, in the crossroad of her life."
-Le Monde
"Emmanuelle Devos - pricky, vulnerable, maddening and touching - reigns supreme."
-The Village Voice - Tribeca Review
February 2, 2014 - Sneak Preview - DC - Avalon Theater
February 13 and 15, 2014 - Portland - Portland International Film Festival
March 6, 2014 - San Jose - Cinequest
Opening March 21, 2014 - New York, NY - Lincoln Plaza Cinemas 
Opening March 21, 2014 - New York, NY - IFC Center
March 27 and 30, 2014 - Oklahoma City - Museum Of Art
Opening March 28, 2014 - Los Angeles - Laemmle's Royal Theater
Opening March 28, 2014 - Los Angeles - Laemmle Town Center 5
Opening March 28, 2014 - Pasadena - Pasadena Playhouse
Opening April 4, 2014 - Los Angeles - Laemmle's Music Hall 
Opening April 4, 2014 - Santa Ana - Regency South Coast Village
Opening April 4, 2014 - Palm Springs - Camelot Theaters
April 3 - April 19, 2014 - Minneapolis - St Paul International Film Festival
April 3 to 7 - Ashland - Ashland Ind. Film Festival
April 11 and 13 - Sonoma - Sonoma Film Institute
Opening May 2 - Santa Fe - The Screen 
April 13 - Atlanta - The cinema club
April 18 and 24 - Wilton - Town Hall Cinema
April 25-28 - Miami - Cosford Cinema
April 25 - May 1 - Miami - MDC's Tower Theater
Opening May 2 - Washington DC - Avalon Theater 
Opening May 2 - Sedona - Sedona Film Festival
Opening May 2 - Dennis - Cape Cinema
Opening May 9 - Hartford - Real Artways
May 9 -11 - Baton Rouge - Louisiana Film Fest
Opening May 16 - Monterey - Osio Cinema
May 16 - 22 - North Park - North Park Theater
May 23 - 25 - Portland - Movies at the Portland Museum of Art
May 30 to June 7 - Chicago - Gene Siskel Film Center
May 31 - June 1 - Lakewood Ranch Cinemas - Sarasota Film society
Opening June 6 - Portland - Living Room Theater
Opening June 13 - Boca Raton - Living room Theater
June 16 - Oxnard - Oxnard Film Society
June 25 to July 3 - Williamsburg - Kimball Theatre 
June 26 and 28 - Cleveland - Cleveland Cinematheque
Duration

105

Nationality

French

Release Date

21 March 2014

Type

Romance

Version

French, English, English sub

Press officer

Alex Klenert, Allison Leffingwell - Prodigy PR - 310.857.2020
Festivals
SILVER HUGO FOR BEST DIRECTION
CHICAGO Film Festival 2013